Straight from an alternate reality, Compusynth is the realisation of a long-held dream: a west coast modular synthesizer featuring a sequencer inspired by one of the first microcomputers in history, the fantastic Altair880.
Download the demo from the
page.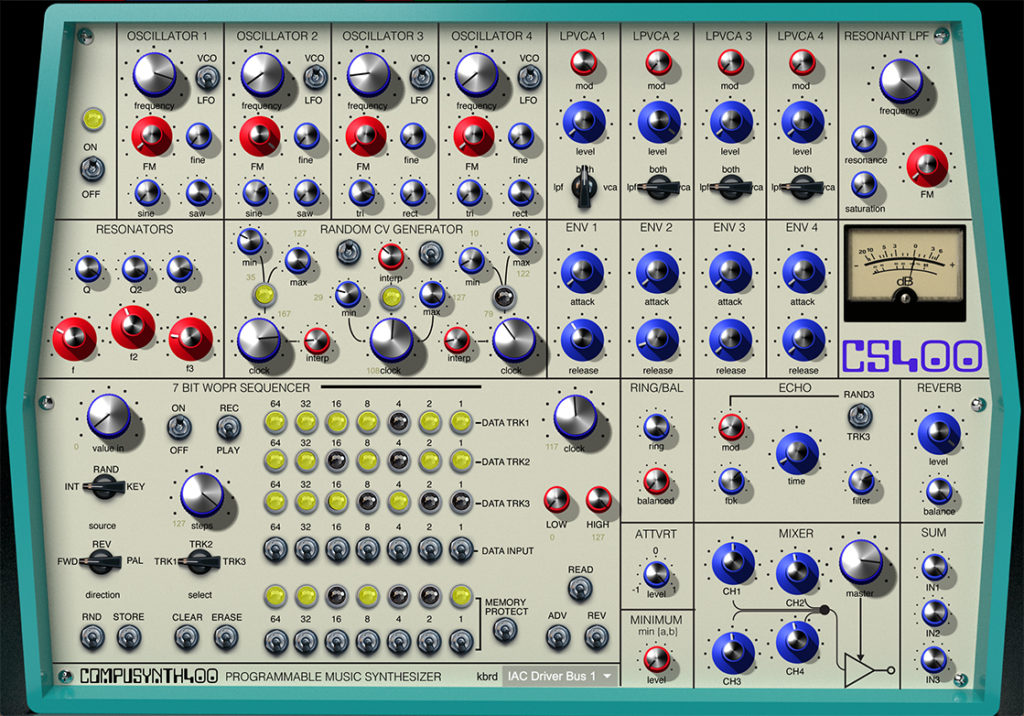 ONGAKU
Ongaku is the sister panel of the infamous Bento japanoise box.
This panel has different features including LPGs, delays and reverb. With Ongaku you will create new sonic worlds from cavernous soundscapes to vibrant generative pads in the style of Eno's, to unpredictable noises or super bongo action west coast style… It is so organic that it feels alive. See for yourself how the probabilistic clock can create amazing strange rhythms.
MELLOPHONICS
Halfway between digital radicalism and a collection of lullabies, Mellophonics finds its inspiration and materials in generative algorithms and neural networks where obviously something has gone wrong.
Mellophonics transports glitch music into the 21st Century; this time it is not CD players and hard drives that fail, but artificial intelligences located hundreds or thousands of miles away from the programmer; Mellophonics establishes a contemporary form of sampling through machine learning, exalting the defects and the hallucinations of the machine, putting a spotlight on the near future of music and of the non-human intelligences that will dominate the field.
How will we deal with it?
Released May 20, 2022
Trained and mixed by Giorgio Sancristoforo
Generative software: Giorgio Sancristoforo
Neural networks software: Prism SampleRNN + Tensorflow
Sample RNN is programmed by Christopher Melen at the RNCM Centre for Practice & Research in Science & Music.

BENTŌ: JAPANOISE IS HERE
Bentō is a noise box inspired by the Japanoise scene.
An instrument for live improvisation and sound design with a distinctive, extremely warm and lively character.
You can create an analog fat wall of sound with its unpredictable oscillators, filters and feedback circuits. Record to magnetic tape and export your sounds or connect Bentō to your DAW using a virtual audio driver.
Discover a world of organic, aggressive, unpredictable and warm noises.
Try the demo now!


Adeptus, a tribute to the 90th of Eliane Radigue
at the WRONG BIENNALE
Discover my sound-art at the WRONG BIENNALE at the InAbsentia Digital Pavillon
Album available HERE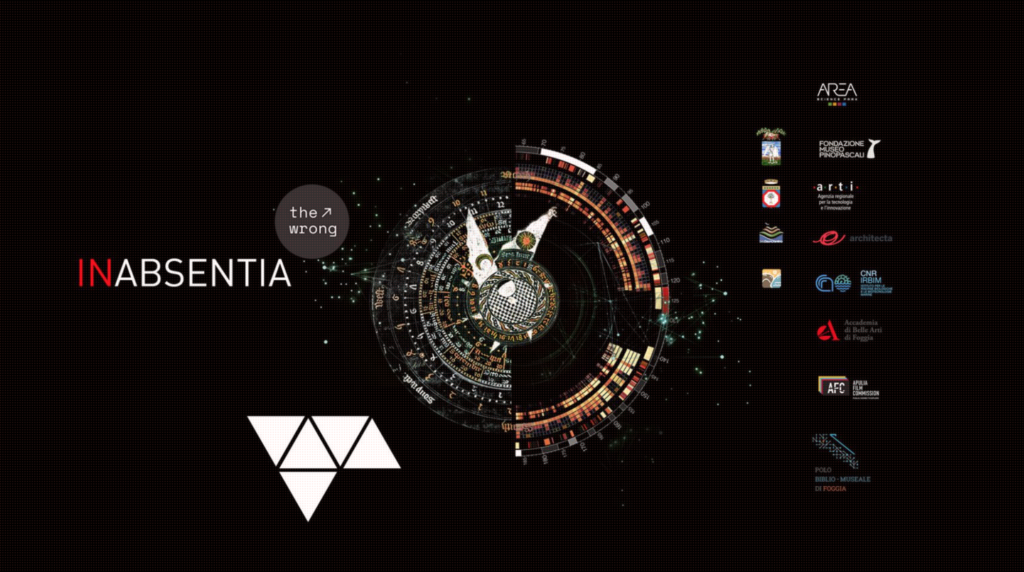 Tropical Additive Synthesis Trop(x[n])
In depth explanation and tutorial on MaxMSP of the Tropical Additive Synthesis which I have developed with the Italian Mathematician and Musician Cristiano Bocci.
You can download HERE the paper.
Berna 3 early electronic music studio simulation released also for WINDOWS
The 1950s studio gets a complete restyle and many new devices.
THE LEGACY
I remember in 2009, when I was working at the first release of Berna, that first and foremost, Berna was my love letter to the RAI Studio di Fonologia Musicale, the electronic music studios of the national radio and television of Italy, founded in 1954 by the composers Bruno Maderna and Luciano Berio.
The Studio di Fonologia has been an obsession for me for many years. It was the better equipped electronic music studios of the 50s, with a lot of devices created ad hoc by the Italian Physicist Alfredo Lietti, who literally scavenged the RAI warehouses to collect all the electronic parts from broken or unused devices. The Studio was directed by Berio and Maderna, first, then by Luigi Nono, and for me these three composers are the sacred trinity of the classic Italian avant-garde. I immensely love their work and their legacy.
But behind the buttons and the mixer console, there was always the prototype of the modern sound engineer and producer: Marino Zuccheri, the technician in white coat that assisted the composers and very often created the sounds of the masterpieces of Italian electronic music. Zuccheri has been an immense inspiration for me, as a sound technician myself, and to his legacy I, once again, dedicate this new version of Berna.
WHAT'S NEW IN BERNA 3
Berna 2 was released in 2013 and it had a substantial improvement of the user interface. Meanwhile this early electronic music studio simulation become popular among schools and institutions of electronic music, among them the TUFTS University and the Royal College of Music of Stokholm. The primary goal of Berna had always been education and always will be.
Berna 3 tries to push the early electronic music studio simulation further, with more realism and details, and a new set of devices. All in all, Berna 3 will be an useful instrument both for students as well as for composers and producers who are interested in playing test equipment and historical devices.
At this time I am writing, Berna 3 is not yet completed, but we're very close and I'm working night and day.
I'm right in the middle of the job and this time, I designed and rendered every equipment and dial in 3D, before coding the audio part.
This adds an unprecedented realism to the equipment and I cared also about crafting a vintage sound.
This time the oscillators and filters do not sound "digital", but following the many requests from the musicians in the past years, I added a warm tone to each device. For example there are 9 different type of oscillators and each one has its own character.
Some are cleaner, some are "dirtier" and fat.
Another improvement I have made is to separate each device from the main interface. So this time every oscillator, filter, amplifier, has its own window. This has many advantages. I made the UI bigger and detailed, and using separate windows helps to keep the graphic memory and the CPU at acceptable levels.
Also, just like Gleetchlab, each device has an ON/OFF switch, which not only is realistic, but helps again to keep your computer far from heating too much.
The new test equipment I am adding to this early electronic music studio simulation have different functions, I can only anticipate a few of them. For example there are two pulse generators that will work with two high precision low frequency high-pass/low-pass filters, these together with the pulse generators will create a set of two (sort of) envelope generators (the real envelope generator was yet to be invented).
Filtering a pulse with an high pass filter at very low frequencies create a pulse with an exponential decay, and the decay depends by the cut-off frequency. Using a low-pass instead we get a log attack. So even if we can't use a classic ADSR, you will get a functional AR without sacrificing the historical accuracy. This was a tip for which I have to thank the engineer Marco Bruno from Spin Electronics who is always a huge source of knowledge in vintage measuring instruments and electronics.
Another new device (there will be a good number) is something that is deeply related to my artistic practice and which gave me a lot of fun in the design. I thought of adding a random pulse generator, and so I added a simulation of a geiger counter and an X-Ray tube driven by a Rumkhorff coil. The geiger counter alone will give some sparse clicks which simulate faithfully the background radiation we live in, but if you turn on the Rumkhorff coil and give current to the X-Ray tube, the clicks will be faster and faster. You can use it as a clock source or as a sound and you will not get irradiated as I am sometimes, when I run these atomic experiments.
Another device is a simulation of the MESSGENERATOR MG60 used by Stockhausen for Studie II and Kontakte, and the AG-10, again used in Kontakte as well as the RAI Studios.
NO, IT'S NOT A PLUGIN
Berna3 early electronic music studio simulation is standalone only.
This does not mean that you can't route the audio to your DAW (using a virtual audio interface), but I am interested in developing alternatives to mass market softwares.
I think that first and foremost Berna must be an EXPERIENCE and not just another plugin to stack on tracks full of other plugins.
I want to offer you some time away from your usual way of making electronic music, to think different, to approach the music in a different way. You will discover new things, you will learn a lot and you will be not distracted by other things.
Because Berna does not simulate tape splicing you can (and you will be interested in doing so) edit some files on a DAW.
But with a different goal. Not to mix and make a song, but to cut and paste sounds to create new raw materials for the tape players of Berna to be processed further with its modulators and filters.
Please remember to read the manual as many functions of Berna are not available on other software.
DOWNLOAD THE DEMO OR BUY NOW HERE
See you soon and if you want to see updates follow my Instagram
.